Don't you love driving by a transformer box that an artist has turned into public art? I have been taking photos of the "transformed" boxes for quite some time. They aren't always that easy to get to. I catch a glimpse of cool artwork out of the corner of my eye, as I am zipping by in my car. The trick then is to find a parking spot. Some of the best artwork is on very busy streets. This may need to be added to my bucket list…get to those hard to access boxes. That could also be worked into my exercise regimen.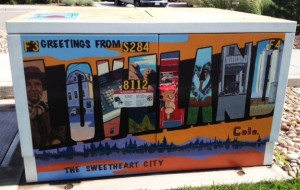 Loveland and Fort Collins, CO have remarkable artwork on their transformer boxes and I am so happy that someone made the decision to add this form of artwork in common places.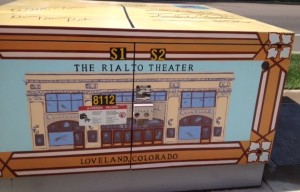 Loveland is particularly good at spotlighting historical aspects of the city in their transformer box artwork. The above box has a splendid illustration of The Rialto Theater.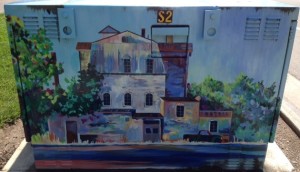 The Loveland Feed and Grain building is an excellent example of showcasing a local landmark that was constructed in 1892.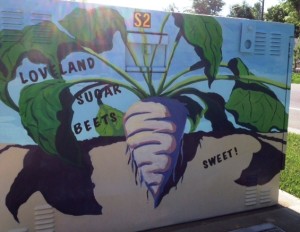 Sugar Beets – The Great Western Sugar Company opened a sugar factory in Loveland in 1901 and it was called the "mother" sugar factory of the Front Range. This company referred to the sugar beet as "white gold." The factory closed in 1985, but the building still stands on Madison Avenue in Loveland, CO. Sugar beet factories strengthened local economies during this period of history. It is sad to see the crumbling factories that dot the Front Range. It is too bad that money wasn't found to stabilize these buildings before they fell into such disrepair. If you are a history buff, you may enjoy reading the Silver Wedge, produced by the City of Fort Collins.
Painted transformer boxes will have to be a continuing series. I will set out again, once the snow clears, to get more shots of these local beauties.