Growing up in Pennsylvania, I had never heard of the multiple-day holiday Day of the Dead (Día de Muertos), which originated in Mexico. A favorite vacation spot of mine is Santa Fe, New Mexico. After many trips to Santa Fe, I have become fascinated with Day of the Dead celebrations. Day of the Dead items can be seen throughout Santa Fe. On a recent trip to Santa Fe I picked up a bunch of Day of the Dead postcards and cards.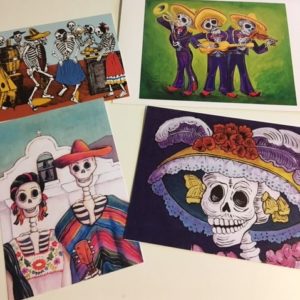 One aspect about this holiday that I love is the positive spin on death. This is a time when people gather to remember friends and family who have passed away. Death, in the Mexican culture, is viewed as a natural part of the life cycle, which it is. This is not a sad time, but a celebratory time. I would encourage you to read the full Wikipedia article on this holiday, as well as the article on the National Geographic site.
We are approaching Día de Muertos this week – October 31st to November 2nd. I have gone a bit over the top in bringing this holiday into my home. I made some fun napkins and have sugar skulls on my dining room table. You can find Day of the Dead items throughout my home.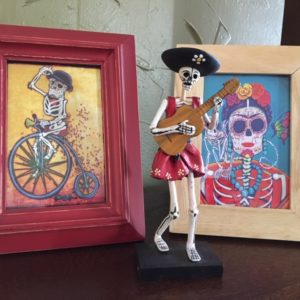 Finding craft projects to do with my grandson can be a challenge. Will the project hold his interest? Will it be too messy? This year we painted wooden skulls in honor of this holiday. Although Day of the Dead coincides with Halloween, it is more of a joyous celebration. Halloween can be dark and scary.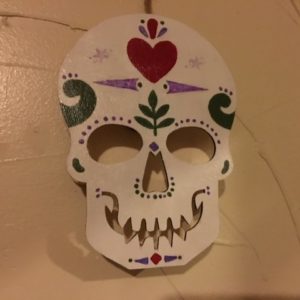 One of the cards that I found in Santa Fe was by the artist Barbara Barratt of Kaleidoscope Designs. I may need to order a few more from her website, her style is delightful.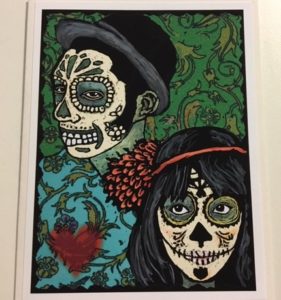 In the future, I hope to add other festivities to celebrating this holiday…maybe create an ofrenda and decorate sugar skulls with icing. You can purchase pre-made sugar skulls or purchase molds to make your own. Here is a site that gives a step-by-step process: Sugar Skulls. You can find the molds on Amazon.
Another fun thing to do for this holiday is to watch CoCo. Aside from being a wonderful animated movie, it gives a great overview of Day of the Dead activities.