Downtown Loveland was alive with Halloween fun activities this past weekend. People were beginning to get into a festive spirit on Friday night and continued throughout the weekend.
I entered The Flipside, located at 140 E. 4th Street in Loveland, on Friday evening. There was a large Halloween cake, baked by Renee Buzzell of Starlight Dessert Bar and Bakery, located on the bar. The cake was served at 9:30 pm as a pre-Halloween celebration. The Flipside is an arcade and is filled with pinball machines.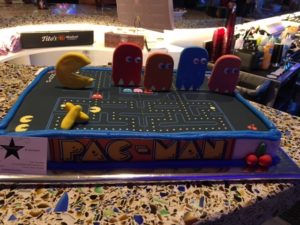 I had not played a pinball machine since the 1970's. I was having a great time with the pinball machines and decided to try my hand at a Pac-Man machine. A four-year-old boy, Dallas, wanted to play the game. I really didn't remember how to play the game. This young child was kind enough to coach me. He was dressed up as a Mario Brother and was cute as could be. He ended up winning quite a few rounds. The number of families that frequent Flipside was a surprise to me. As downtown Loveland continues to grow, I believe that Flipside will be a wonderful addition to 4th Street and a place that will be known for family fun.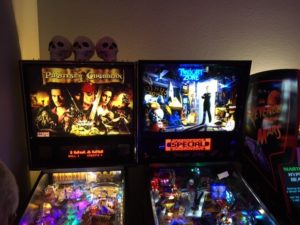 I was back downtown on Saturday dressed as Queen Amidala. The Loveland Museum/Gallery was holding their annual Halloween Family Fun Festival from 10 am to 2 pm. It was shocking to see the thousands of children trick-or-treating throughout the downtown area. If I had not seen this for myself, I would not have believed the number of children and parents who come to this event. Most of the shop/restaurant owners had plenty of candy to give out, right up to the end of the event.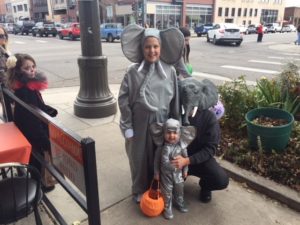 There were vendors, costume contests and kid's activities at the Loveland Museum/Gallery. Some of the costumes looked like they took hours to create. My favorite two outfits were a family dressed as elephants and two children dressed in steampunk costumes.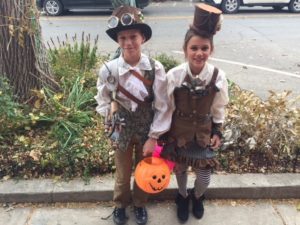 Many of the shop/restaurant owners and their staff were dressed in costumes. Annalise Lundeen had one of the most creative costumes. Her facial makeup was stunning. Annalise is new to 4th Street. She will be having a grand opening of her new shop, Annalise The Amaranth, this Friday, November 3, 2017 at 5 pm. The shop is located at 342 E. 4th Street in downtown Loveland.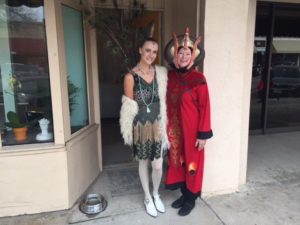 Loveland Aleworks had a Halloween Party on Saturday night. I haven't seen photos posted from the event yet, but I am sure fun was had by all.
Today is Halloween. Enjoy the trick-or-treaters and be safe out there.
Save
Save
Save
Save
Save