Have you ever met someone who exudes joy and their mission in life is to make the world a better place? That was how Liz Miller lived her short life. She was diagnosed with epilepsy at age 12 and passed away on March 28, 2008. I recently heard about Do A Liz Thing from Ariana Friedlander. Although I never met Liz, I can imagine that she was a kind and sweet young woman. Her family created the Do A Liz Thing program as a way to honor Liz and inspire others to continue to do simple acts of kindness, with no expectation of reciprocation.
Mayor Wade Troxell has proclaimed March 28, 2017 as Do A Liz Thing Day. He will be reading the proclamation on Tuesday, March 28th at 2 pm on the Stage in Old Town Square.
Image of the proclamation below: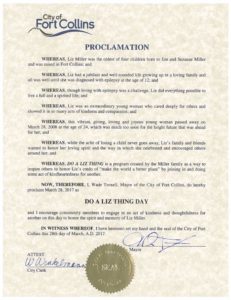 The Miller family has created labels that can be printed and used whenever a person does a Liz Thing. People write notes on the back of the cards when they leave a generous and unexpected tip, or buy the coffee for the person in line behind them, or they use them as a gift tag on a bouquet of flowers, or a loaf of fresh baked bread. It isn't too hard to come up with random acts of kindness to make another person's day a bit brighter. Be creative, be bold!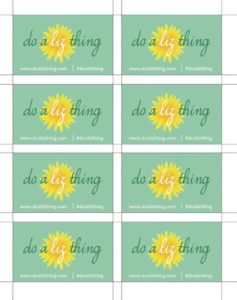 I love biscotti. I buy boxes of of these delicious treats and toss them on the desks of the women I work with. Dixie Daly works in my office and she tosses black licorice or Good & Plenty candy on my desk; especially if she knows I am having a bad day. These are very simple ways of showing others you care. And it might just make a big difference on that particular day.
Save
Save