As I walked home tonight I was compelled to snap off lilac branches that had just bloomed. One might think of me as a lilac thief. It is the end of April and I am so ready for spring. I have about ten lilac bushes in my backyard, but still I am compelled to grab some branches on my way home. It is almost like a drug. You will only smell lilacs, with their distinctive, sweet alluring smell, in early spring. My lilacs are just beginning to bloom and I covet every flowering branch.
I am trying to remember when my obsession for lilacs began. There was a lilac bush in my childhood yard. I continuously broke off branches and brought them into the house. My mother was a painter and she would sometimes paint the lilacs that I placed in vases. She painted a version of "Lilacs" by Varaldo J. Cariani and I have that painting in my office. How appropriate that she painted it the year I was born.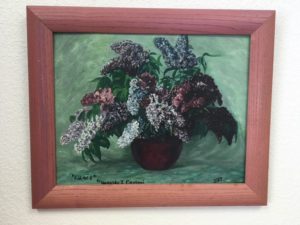 There were many years that I was on the move with different jobs and did not embark on sneaking around the neighborhood clipping lilac branches from my neighbors. A group of lilac bushes, to me, is like an outdoor cathedral. When I look at the flowering bushes, I slow down, take time to reflect and drink in the marvelous smell.
At a time when I did not have one single lilac bush of my own, I was consumed by the idea of gathering a colossal amount of lilacs for a special occasion. My stepdaughter was graduating from college. I wanted to find a way to honor her since I considered this to be an event that should be celebrated and acknowledged in my own special way. I found some bright colored cotton table clothes and planned a simple but tasteful menu. Weeks before the graduation ceremony, I had a vision of vases filled with lilacs. As any fan of lilacs knows, the blooms last only a brief time. I could only hope that my neighbors would have lilacs in full bloom during graduation weekend.
As  graduation day neared, I cooked vats of food for the guests and strolled through my neighborhood, inspecting all my neighbor's lilac bushes to see if any would be ready by the morning of the event. It was looking very promising that we could possibly have fabulous flowers for the tables. On the morning of graduation, I handed my husband a pair of clippers and invited him to help me with my caper. We needed to hit as many lilac bushes as possible, without getting arrested. Yes, he did shake his head and I could see in his eyes that he was thinking, "You have got to be kidding." Life should be an adventure and this morning certainly was. Somehow we gathered enough flowers to fill about 8 large vases, without anyone noticing. I can't tell you how lovely the tables looked and the smell was divine.
I wish I could report that the days of stealing lilacs are behind me, but that would not be true. My fixation for lilacs will remain until the day I die. If I am ever arrested, chances are very good that it will be for snipping off the flowering branches of spring lilacs in my neighborhood.