If you need a little rejuvenation, you can't beat a winter retreat at the Mabel Dodge Luhan House in Taos, NM. My husband and I have made it an annual custom to travel to Taos and/or Santa Fe between Christmas and New Years. Mabel's room is our favorite, but we decided to be brave and try the Solarium during this year's trip.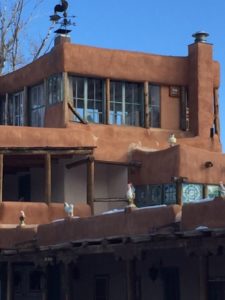 I wouldn't suggest this room if you are modest, as the entire room is floor to ceiling windows. It was quite a nice surprise on New Year's Eve when the fireworks were set off in the town square and we had a bird's eye view from our room.
It is hard to describe the serene feeling one gets when entering the Mabel Dodge Luhan House. During the winter months the fireplace in the living room has a continuous crackling wood fire. The end tables in the living room have beautiful photographic coffee table books available for all guests to peruse. One afternoon, while sitting by the fireplace, I had just finished reading Enchanted Land and Healing Hands by Lenny Foster. At the end of the book was a page that had a photo and bio of Lenny. Out of the corner of my eye, I saw Lenny sitting on the other side of the room. I believe he may have been staying at the B & B. He only sat there briefly and now I am sorry I didn't get to tell him how wonderful his work is.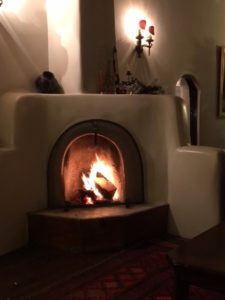 Another fun part of sitting in the living room at the Mabel Dodge Luhan House is meeting people from all areas of the country. We met two lovely women from Brooklyn. Through meaningful conversations, it was clear these young ladies were at a stage in their lives where they were considering drastic changes. Taos has a way of bringing those thoughts and feelings to the surface. They may have even considered a move to the Southwest. I don't know if I will ever hear from these women again, our brief interaction left a lasting impression. I wish them well as they discover a path that makes more sense to them.
One evening, sitting by the fire at Mabel Dodge Luhan House, a young couple came in and sat across from us, Billy and Mandy. They looked downtrodden and they were unable to get a fire to take hold in the fireplace in their room. We shared a taste of our bourbon and chatted about their budding business in Albuquerque, NM, Breve Crepes and Coffee. Being in business development, my conversations usually drift to business; especially if I am talking to a business owner. I was quite impressed by the determination and wisdom of these two business owners. I believe they will be highly successful in their business endeavors. I will certainly always stop by Breve when in Albuquerque to visit with them again.
I was able to finally drag myself away from the solace of the fireplace and we made a quick trip to Santa Fe. The Silver Sun on Canyon Road has an annual half-price sale on their native jewelry between Christmas and New Year's Day. It is the perfect time to find a treasure for oneself or a gift for a friend.
I have walked past the New Mexico State Capital buildings a ton of times while in Santa Fe and have never stopped in. Curiosity got the better of me on this trip and I am so glad that we stepped into the building to discover the most amazing collection of artwork and furniture. You won't want to miss this if you get to Santa Fe.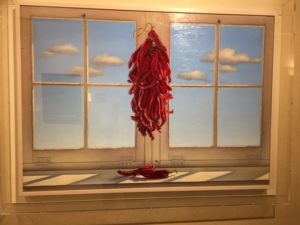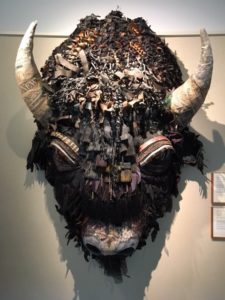 I don't easily give a thumbs up to restaurants, but there were a few gems in Taos that I will give a shout out to.
We ended up going back to Common Fire twice during our week's stay in Taos. Their roast beef sandwich and mac n' cheese were superb. All the staff members were welcoming and engaging. The owner, Andy, sat by guests telling fascinating stories.
Gutiz, serves Latin-French cuisine and seems to be a favorite of locals and tourists. The brie sandwich with Granny Smith apples was delish.
Lambert's is exquisite and not to be missed. The cheese plate was really enough to fill us up and we should not have ordered the Sea Bass. But the Sea Bass dish was out of this world and I would not hesitate to order that again. Lambert's has a casual area on their second floor, the Treehouse. I am a big fan of places that do happy hour well and these people know how to do happy hour. They have a $6 menu served in the Treehouse from 2:30 pm to 6:00 pm. We tried the Kale Caesar Salad, the Marinated Beet Salad and the Pan Roasted Mediterranean Olives. The portions were large and everything was scrumptious. The bar is small and intimate, surrounded by comfortable furniture and an adjacent room filled with more comfy furniture. You almost feel like you are sitting in someone's living room.
Eske's Brew Pub is a local favorite spot and the blue grass jam session that we stopped by to check out was super. It was nice to see a new brewery in town, Taos Mesa Brewing. Good beer and wood fired pizza…you can't go wrong with that. We tried to go out to the Taos Mesa Brewing Mothership, which is located about 15 minutes out of town, but the parking lot was so muddy we would have ruined our shoes. They have live music almost every night, sorry we missed that.
I will wrap up this post by mentioning my favorite restaurant in Santa Fe, The Pink Adobe. The atmosphere is intimate with crackling fires in the multiple fireplaces. Anything on the menu that you try will be fantastic. There is an adjoining bar, Dragon Room, that serves a more casual menu and that is an entirely different experience. I enjoy that area, but do prefer to be in the more formal dining portion of the building.
It is sometimes difficult to get back into the swing of things, upon returning from a retreat to Taos or Santa Fe. There is a calmness and maybe even a spirituality about the area. The calm feeling does linger and perhaps it would be a good plan to travel to this area twice a year to help ignite a create spark and to quiet one's mind.
Save
Save
Save
Save
Save
Save
Save
Save
Save
Save
Save
Save