My husband hates winter and this year was particularly difficult with so much early snow in Colorado. The solution – spend much of January in Arizona. Our neighbor has been going to Sunflower Resort in Arizona (a 55+ community) for many years and suggested we check it out. The resort has RV spaces and park models for rent or to own.
The amenities at the resort are copious: silver/lapidary, leather works, woodshop/woodcarving, pottery, papercrafts, photography, basket making, painting, and many more clubs to learn crafting skills. Each of the clubs has a small annual fee ($10-$20) and you bring some of your own supplies. You can use your own tools or rent their tools.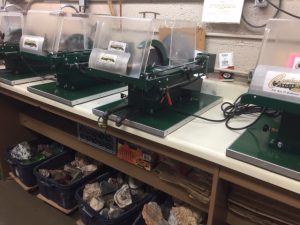 The lapidary studio has one piece of equipment worth over $35,000. Joining this club is a stellar opportunity to use equipment that you would not typically have access to.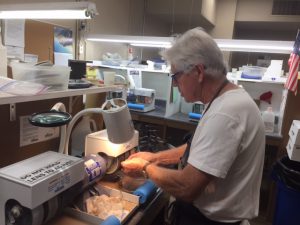 The woodshop club is very similar, with impressive woodturning equipment and just about any other type of wood crafting equipment you can think of.
The selection of exercise and recreational activities is too numerous to list. Yoga is quite popular and is offered each day. Another favorite is Zumba. You can find people playing pickleball, at all levels, every day. There is a Tiki bar with live entertainment and great food with reasonably priced drinks. You can't beat the $1.50 beer at happy hour.
My favorite activity on this trip to Arizona in the winter has been hiking. Sunflower has a hiking group that hikes twice a week. The nice thing about hiking in a group is you can join in if you are a single and hike safely with others. Some of the individuals in the hiking group are married but their spouses have health issues that prevent them from joining in the hikes. A lost hiker was recently on the news. A young girl hiking alone and she missed her trail and ended up stranded in the dark. A helicopter finally found her and got her back down the mountain. Great reminder to not hike alone.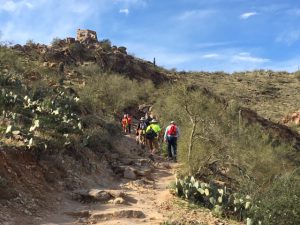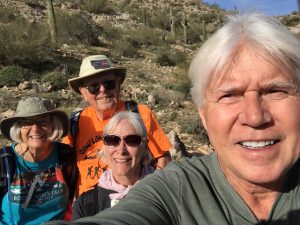 I was surprised at the number of hiking trails around the Phoenix, AZ area. You could hike two to three times a week for a month and never hike the same trail.
Lake Pleasant is a very easy hike with a beautiful lake view, picnic areas, flush toilets and camping/RV sites. We were fortunate to see a wild burro on our hike.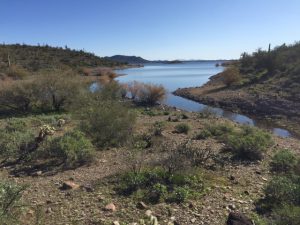 Wild Tank Mountain Regional Park is popular and quite busy on the weekends. If you can hike during the week that would be a better option. This hike is perfect for children. The camping/RV sites look nice, flush toilets and dog/goat friendly. We saw people hiking with their two pet goats.
Pinnacle Peak Park was interesting with colorful signs of illustrations along the path from the book, Ten Little Rabbits by Virginia Grossman.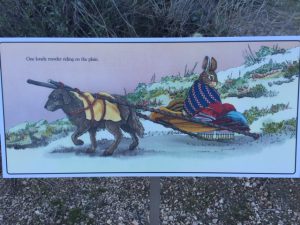 Sedona is not to be missed for the views, restaurants, and hiking. You could easily spend a few days here. Elote Café is a recommended dining hot spot in Sedona; be prepared for a long wait. Locals suggest eating at 9 pm to avoid the long lines. We ended up at PJ's Village Pub, a local favorite. The $3.00 beer special of the day was Prescott Brewing Company's Petrified Porter. Thumbs ups to this porter.
After a day of hiking you should treat yourself to a dessert at Big Daddy's Italian Bakery & Café in Surprise, AZ. Their sandwiches are yummy, and the cookies are scrumptious. This is one of the best bakeries I have ever been to.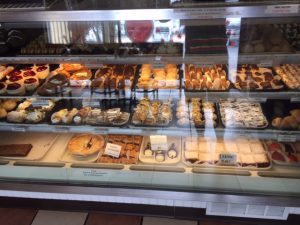 I am certain that the winter months will continue to be a drain on my husband in the future. With that in mind, I need to book a site next January in Arizona!